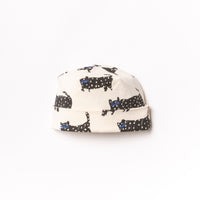 Baby Beanie
Whether paired with its complementing pieces or as a stand-alone statement, this beanie will not go unnoticed. Presenting this season's vivacious prints, this organic cotton piece will sit comfortably on your child's head while adding a drop of colour to their fast-growing world.
The added small percentage of Elastan allows our beanie to be stretchy and to adjust smoothly around your baby's head.
95% Organic Cotton 5% Elastan
Machine wash up to 30º, Do not bleach, Do not tumble dry, Iron at low temperature, No dry clean
Our products haven't been treated with chemicals and need special care.
Please turn them inside out before washing, use a gentle wash cycle and mild detergents.
No bleach please! They will look pretty and last much longer.
Please check the care label for further information.